Turn Key
Solution!

Modular
Future!

Project
Gallery
MDC

Stockholm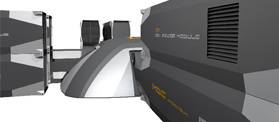 MDC Stockholm is a contender to conventional data centers. Future information centers can be entire cities of steel, based on single units docked to each other - module by module – growing forever.
If humanity colonized Mars, who would dream of building an entire city from day one? With air conditioning, oxygen supply and electrical power for thousands of humans - although only a dozen researchers would move in at start.
MDC Stockholm would build such an outpost in installments. We would manufacture fully functioning modules on earth, ship them to Mars and connect them to others.
Conventional data centers were built on dreams. Enormous capital investment, nerve-wrecking overcapacity before space had been filled. Risky decisions on when to initiate a new center given that it may take two years from pressing "Go" to launch time.
That is history. The future is modular!